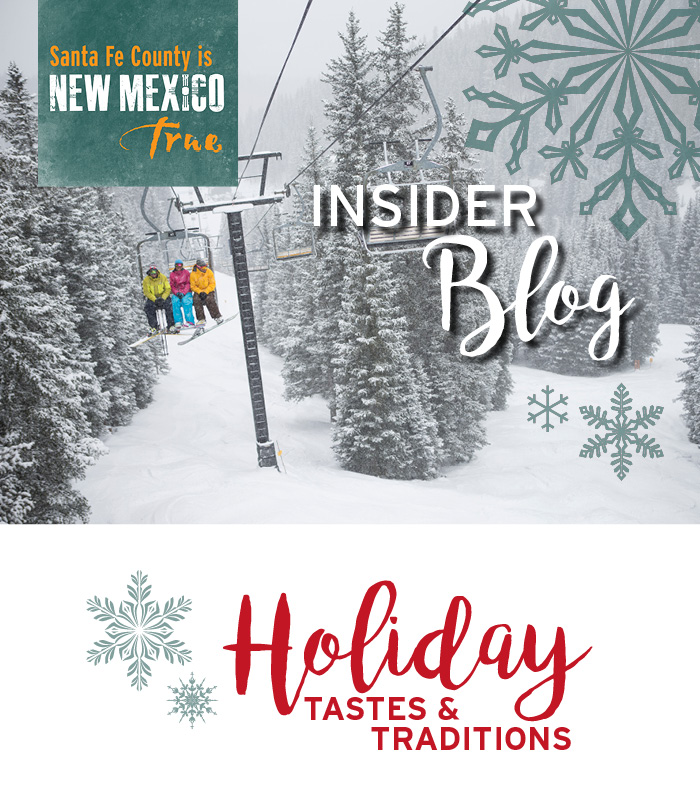 There's no place like Santa Fe for the holidays. This magical, merry season brings wonder and joy with the warm glow of farolitos, the fragrant scent of burning piñon logs and the spellbinding beauty of softly falling snow. Take in a rollicking Christmas parade and a hallowed candlelit walk on Christmas Eve. Get outdoors and ski the Rockies then relax in a high-mountain hot tub. Toast the season with artisanal sake and sublime small plates or margaritas and New Mexico cuisine. However you celebrate the holidays in this winter wonderland, you will be utterly enchanted.
The Miracles of Chimayó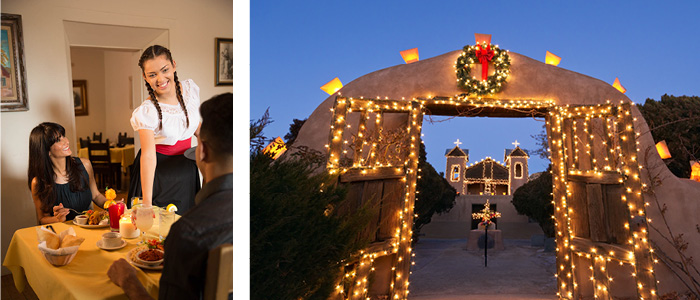 A day trip to the historic village of Chimayó takes you to one of New Mexico's treasures, El Santuario de Chimayó, a Spanish Colonial church built in 1813 with thick adobe walls and twin bell towers. During the holidays, the Santuario (Santuario is Spanish for "sanctuary") is aglow with hundreds of farolitos—paper bags filled with sand and votive candles that cast an enchanting glow. For many New Mexicans, farolitos symbolize a light for Mary and Joseph in their search for lodging. The church, a National Historic Landmark, is world-famous for its miraculous "holy dirt," believed to hold healing powers. The dirt is kept inside in a small well and visitors are welcome to take some with them.
After you've marveled at the beauty of the illuminated Santuario, savor an authentic New Mexican feast at the charming Rancho de Chimayó, winner of a James Beard Foundation America's Classic Award. For more than 50 years, this revered restaurant has been serving tasty New Mexico fare. Dine on traditional holiday foods such as posole, tamales and biscochitos, the state's official cookie. You'll likely be greeted by "Mrs. J," aka Florence Jaramillo, a New Mexico Culinary Treasure. She and her husband, Chimayó native Arturo Jaramillo, opened the restaurant in 1965 in the restored ancestral family home.
High-Mountain Adventures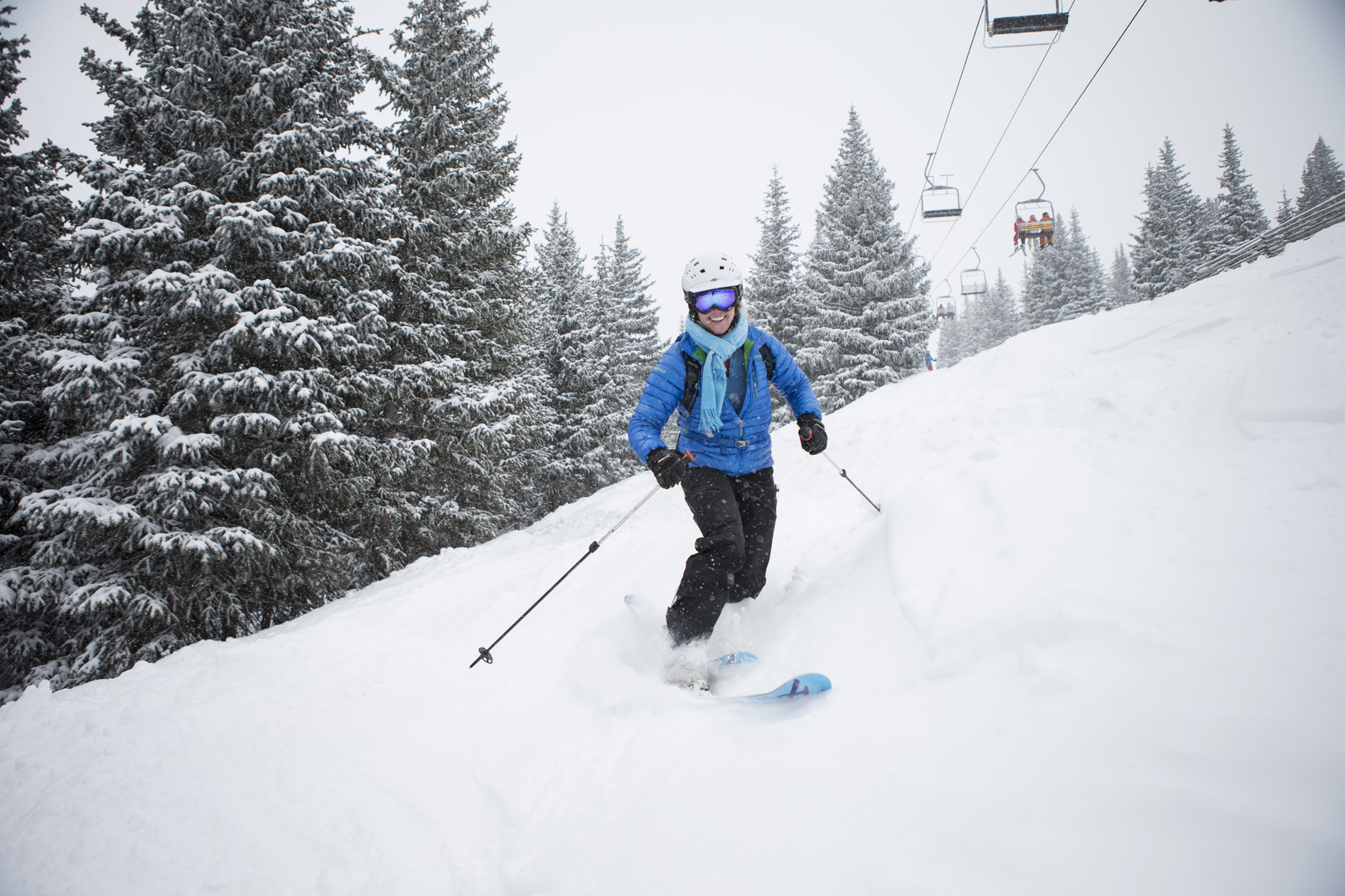 When you're ready to hit the slopes, head to Ski Santa Fe, a premier Southwest ski destination. With a 12,075-foot summit and 83 powdery trails for every level of skier and snowboarder, this family ski area is a perfect place to spend the holidays. Enjoy stunning views from the ski lift on your way up the mountain as well as from the powdery slopes on your way down. With 225 inches of average annual snowfall, you're guaranteed a great day on the slopes.
On your drive down the mountain, visit Ten Thousand Waves Spa Resort, where ancient traditions of Japanese mountain hot springs will restore your body, mind and spirit. Relax with a Deep Stone Massage, Herbal Wrap or Salt Glow then soak in an outdoor hot tub nestled beneath Piñon and Juniper trees. Afterwards, float your way over to the resort's restaurant, Izanami, famous for its selection of 80 artisanal microbrew cold sakes. Pair your sake with seasonal small plates of Japanese pub fare, such as spice-crusted smoked duck breast with pomegranate glaze and sake-braised simejii mushrooms with shoyu butter sauce. You could indulge in the decadent foie gras burger with Wagyu beef and caramelized onions. Finish your feast with chocolate miso mousse cake and house-made honey lavender ice cream.

Holiday Happenings
December brings an array of annual events that could get old Scrooge himself into the holiday spirit. The Christmas Parade in the historic mining village of Madrid will have you cheering on Santa Claus and a merry band of marchers dressed up as elves, reindeer, Christmas trees and more. This year's parade takes place Saturday, December 1 at 4 p.m., kicking off Madrid's Christmas Open House. The weekend festivities, held through Christmas, feature a Christmas light competition and extended hours for shops and businesses.
On Christmas Eve, wrap up warmly and join the crowds on the annual Canyon Road Farolito Walk, a beloved Santa Fe tradition that starts at sunset. Your path will be lined by thousands of glowing farolitos on adobe walls, rooftops, galleries, shops and houses. When you need warmth, gather around the luminarias (bonfires) and join revelers gleefully singing carols.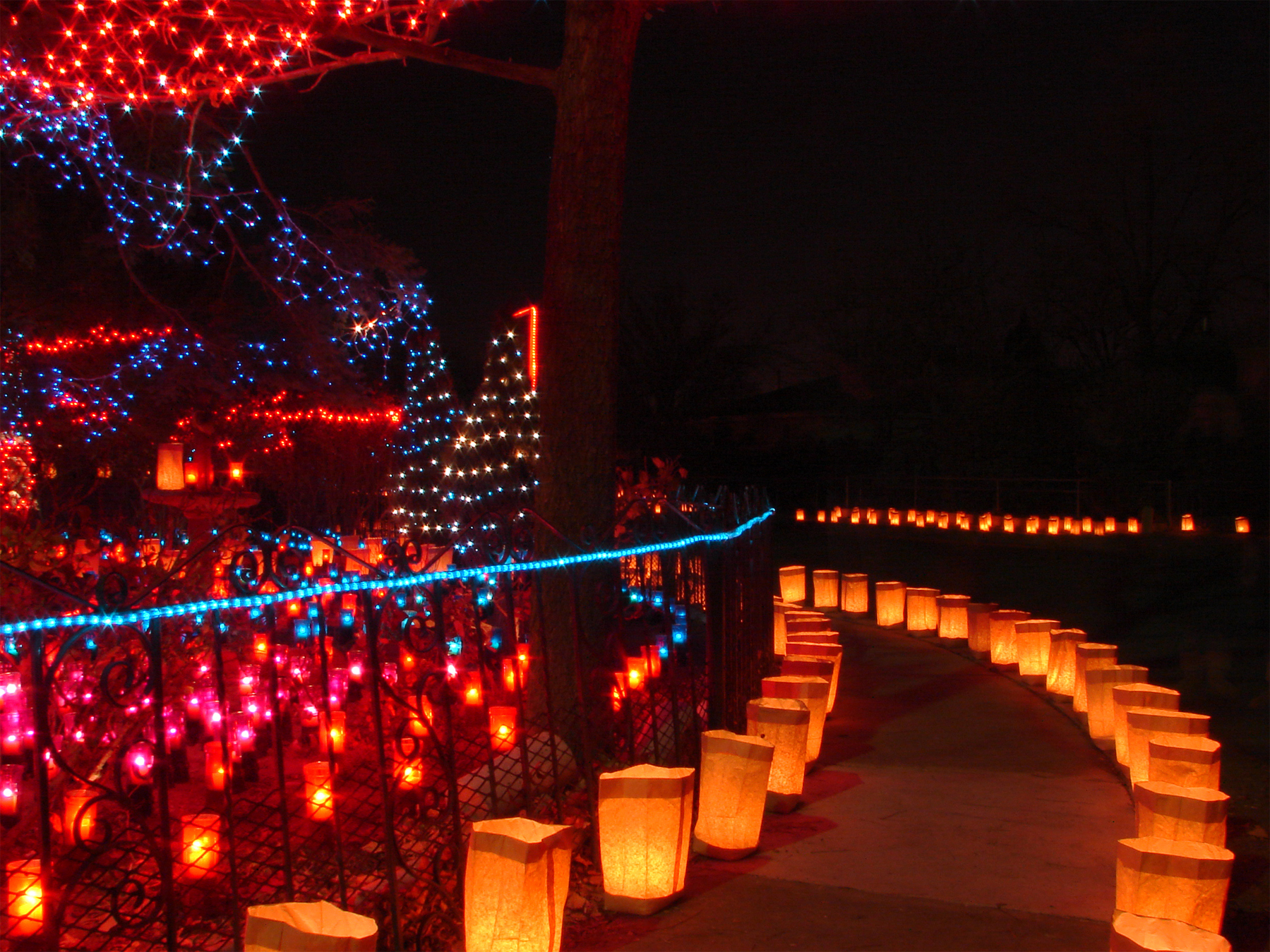 Ring in the New Year on the Santa Fe Plaza on Monday, December 31 starting at 9 p.m., with a jubilant celebration of sights and sounds, as musicians play from the Bandstand and piñon-burning bonfires provide warmth. Enjoy hot chocolate and biscochitos as momentum builds for the midnight countdown, when the raising of a Zia symbol and fireworks provide an unforgettable start to 2019.
INSIDER BLOG NEWSLETTER SIGNUP
Signup to receive our newest blog posts to get an inside view into what makes Santa Fe County a one-of-a-kind destination.