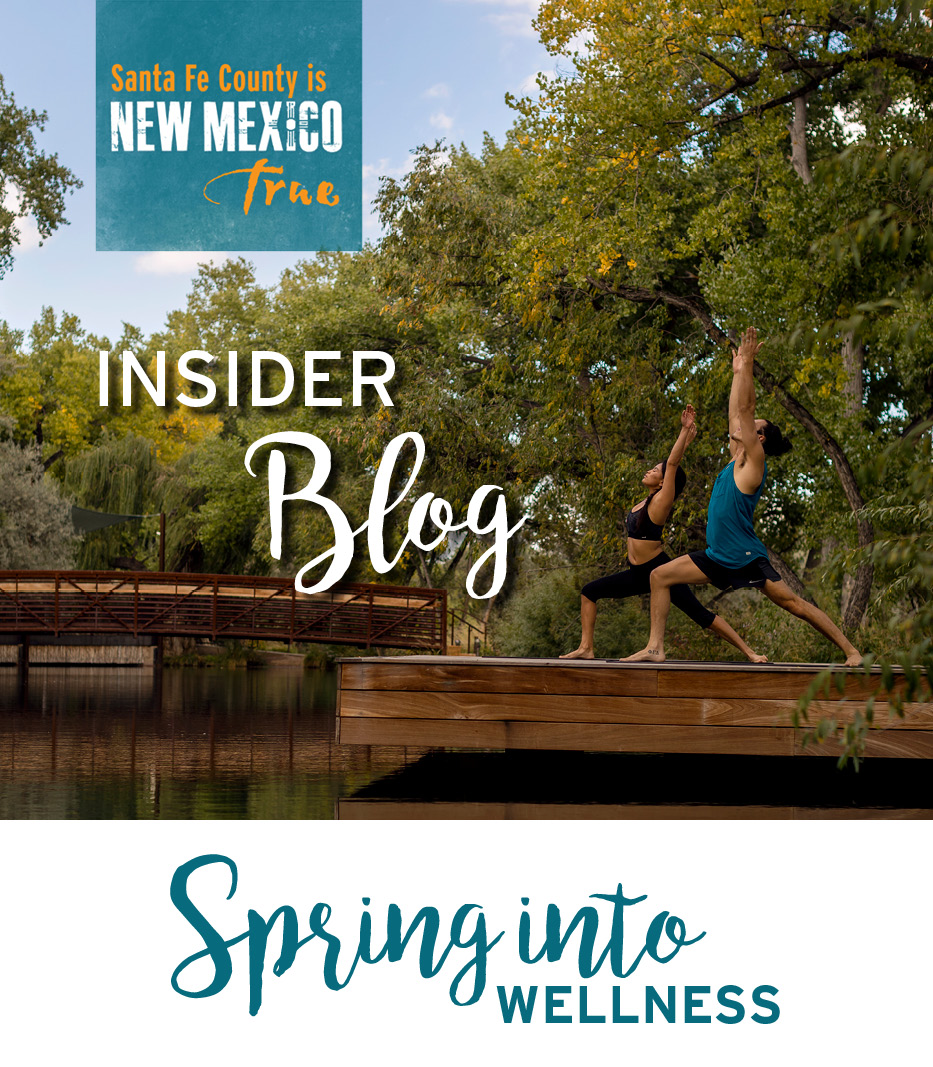 As winter finally melts away, a getaway to greater Santa Fe can renew your body, mind and spirit. Spring is the season of renewal, and an itinerary that includes a soak in healing hot springs, healthy farm-to-table cuisine and an invigorating hike to ancient rock art provides a pathway to wellness found only in Santa Fe County.
This region has long been a mecca for those seeking wellbeing. Ancient Native Americans knew all about the healing power of local hot springs and desert plants, herbs and flowers. In the 20th century, people from far and wide traveled by train to Santa Fe's dry climate, in search of "the cure" for their tuberculosis. Today, visitors come for relaxation and rejuvenation, and spring is the ideal time.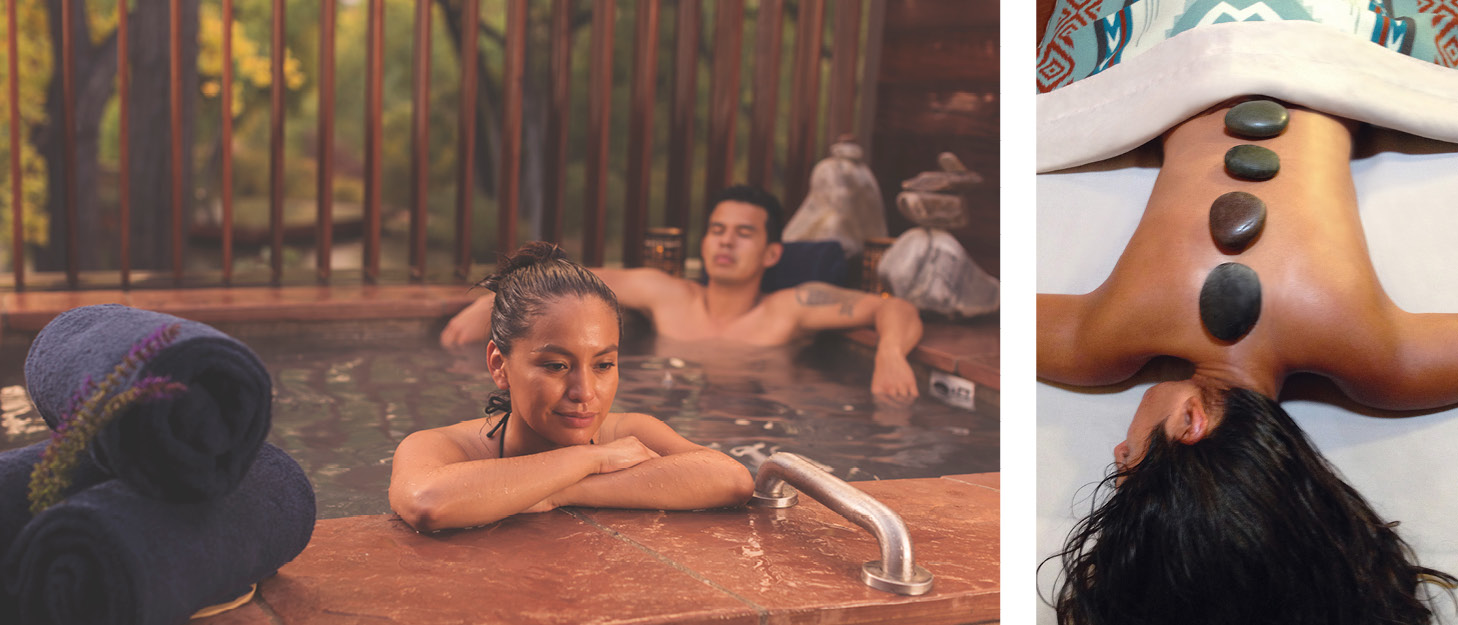 Unwind at the enchanting, award-winning Sunrise Springs Spa Resort, located 20 minutes south of Santa Fe. The secluded outdoor pools of spring-fed waters are surrounded by towering trees, gardens and walking paths. After a serene soak, enhance your state of relaxation with a deep-tissue, hot stone or customized massage. A skin care treatment will purify, rejuvenate and hydrate with a combination of facial massage, hot towels with wildcrafted local herbs and a skin care line made with nutrient-rich local plant ingredients. Nourish your body and mind with a restorative yoga session that will elevate your sense of overall well-being. The resort offers yoga sessions for all levels, held in a serene studio or outdoors on a dock overlooking a peaceful pond.
Even the seasonal cuisine served at Sunrise Springs' Blue Heron restaurant is designed to make you feel good. Brunch, lunch and dinner feature farm-to-table ingredients grown on the resort's farm. For a delectable sample of local cuisine, try the Three Sisters Tamale with calabacitas, pinto bean ragout and New Mexico's famous Chimayó red chile, or the butternut squash stew, with curried winter squash, white beans and spinach.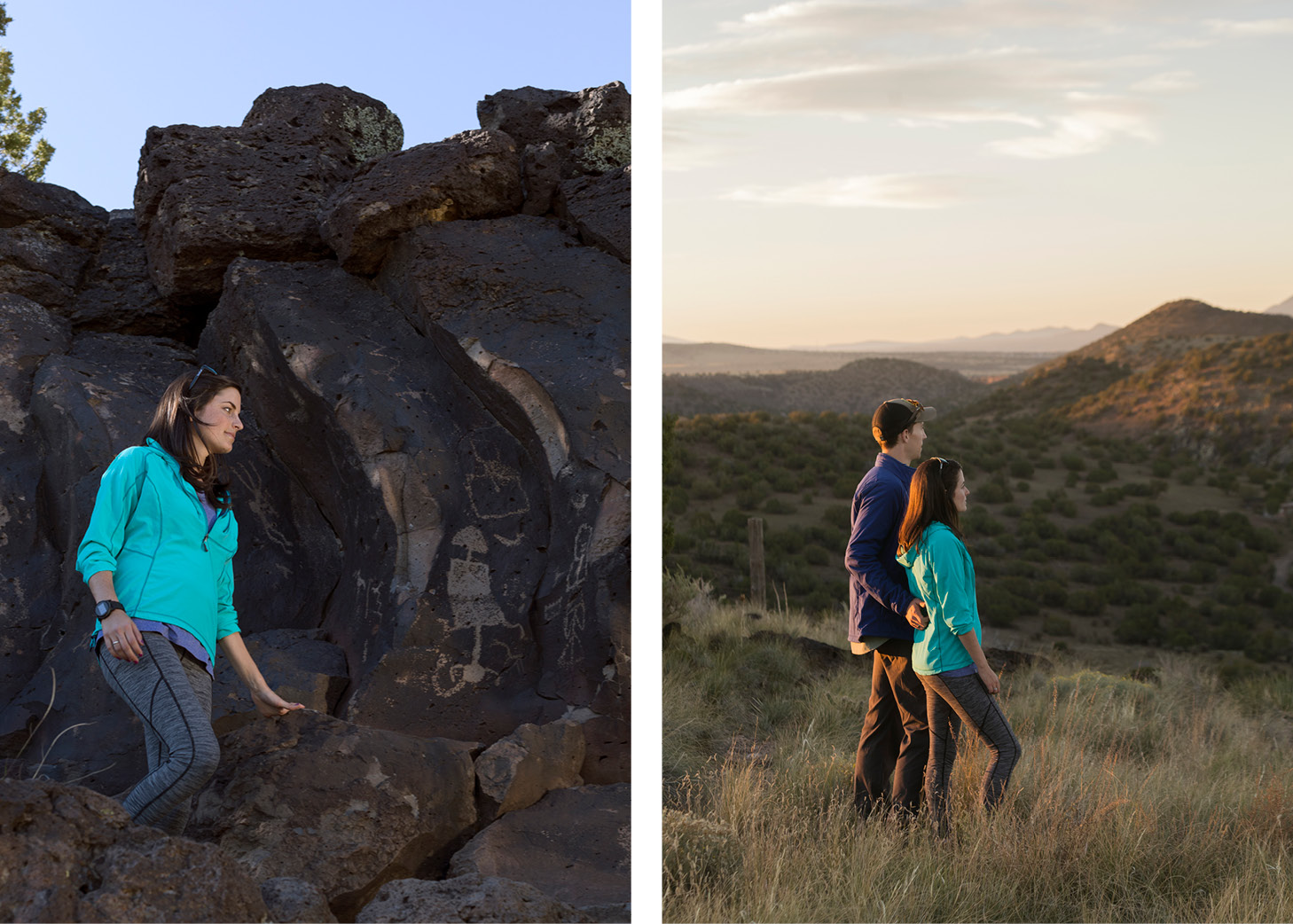 Once you're refreshed and ready for adventure, set out on a hike in clear, high-mountain air at La Cieneguilla Petroglyph Site located a short drive from Sunrise Springs. This mesa above the Santa Fe River is home to one of North America's largest collections of Native American rock art, known as petroglyphs. You'll marvel at the carvings of birds, deer, hunters and other human and animal figures, including the beloved hump-back flute player known as Kokopelli. Most of the Pre-Columbian petroglyphs were carved between the 13th and 17th centuries, but some may date as far back as 8,000 to 2,000 BCE.
A visit to Meow Wolf's "House of Eternal Return," will stimulate all of your senses. This immersive all-age, art experience, located in a former bowling alley on Rufina Circle in Santa Fe, takes you through a mysterious multiverse, where you'll walk, climb and crawl your way through more than 70 rooms created by some 200 artists. Just one visit to what NPR calls "Pee-Wee's Playhouse on steroids" will vanquish any lingering winter blues.
After the mind-bending experience of Meow Wolf, relax at Beer Creek Brewing Co. with inspired craft beer and pizza as well as live music. One of the area's newest brewpubs, Beer Creek utilizes hops grown on its four-acre hop farm. Try the Coming Soon Pale Ale. It will please fans of stout and porter and pairs perfectly with any of the delicious pizza offerings, including the Bonanza, loaded with pepperoni, sausage and veggies. Located on the Turquoise Trail (Highway 14), Beer Creek also offers sandwiches, pasta and awesome desserts. Green chile cheesecake, anyone?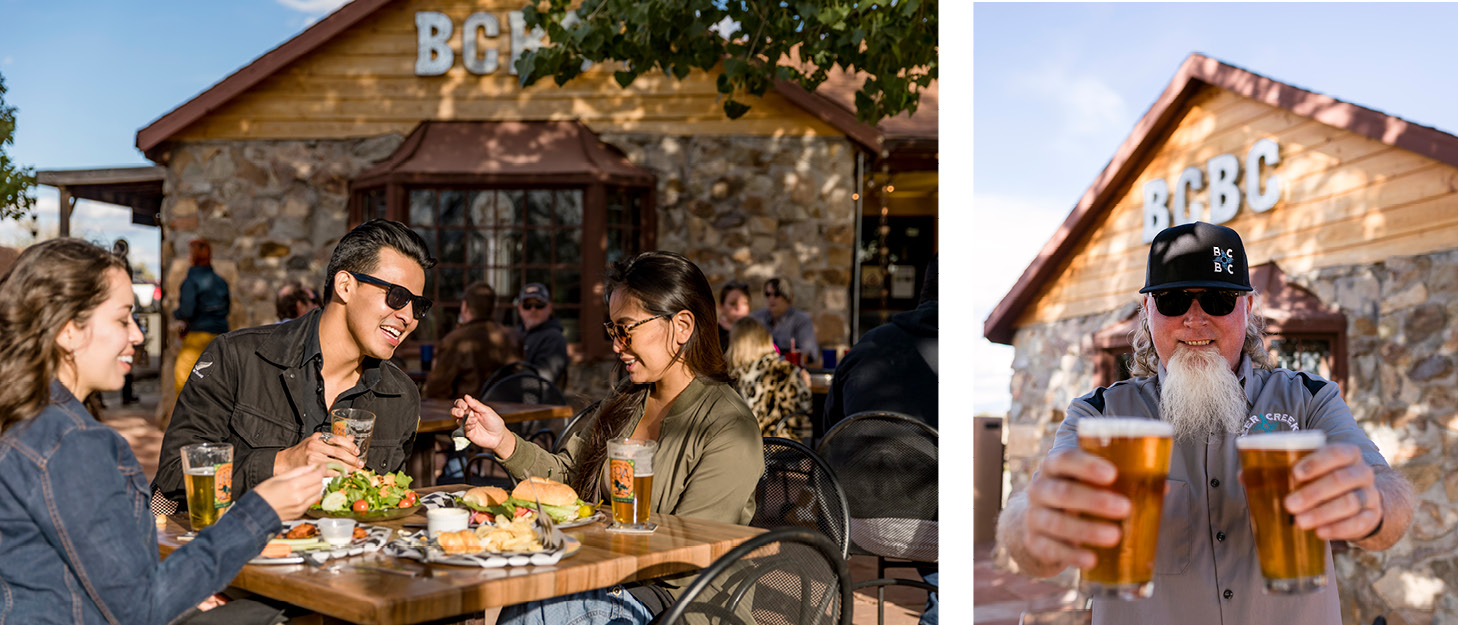 With the arrival of spring, the staff at Rancho de las Golondrinas are busy preparing for the June 1st opening of the Southwest's premier living history museum. Located just down the road from Sunrise Springs Resort, the seasonal museum offers a journey into the past, with costumed docents and historic buildings representing Spanish Colonial and Territorial periods in 18th and 19th-century New Mexico. The annual Spring & Fiber Fest, held June 1 and 2 from 10 a.m. to 4 p.m., showcases traditional ranch activities such as sheep shearing, wool dyeing, spinning and weaving. Kids can enjoy wagon rides and making crafts. At the fiber arts marketplace, you can purchase weavings, wearable art, wool, tinwork and an array of delicious foods.
Treat yourself to all that Santa Fe County has to offer this spring and we guarantee you'll feel your body renewed, you mind rested and you spirit lifted.
INSIDER BLOG NEWSLETTER SIGNUP
Signup to receive our newest blog posts to get an inside view into what makes Santa Fe County a one-of-a-kind destination.