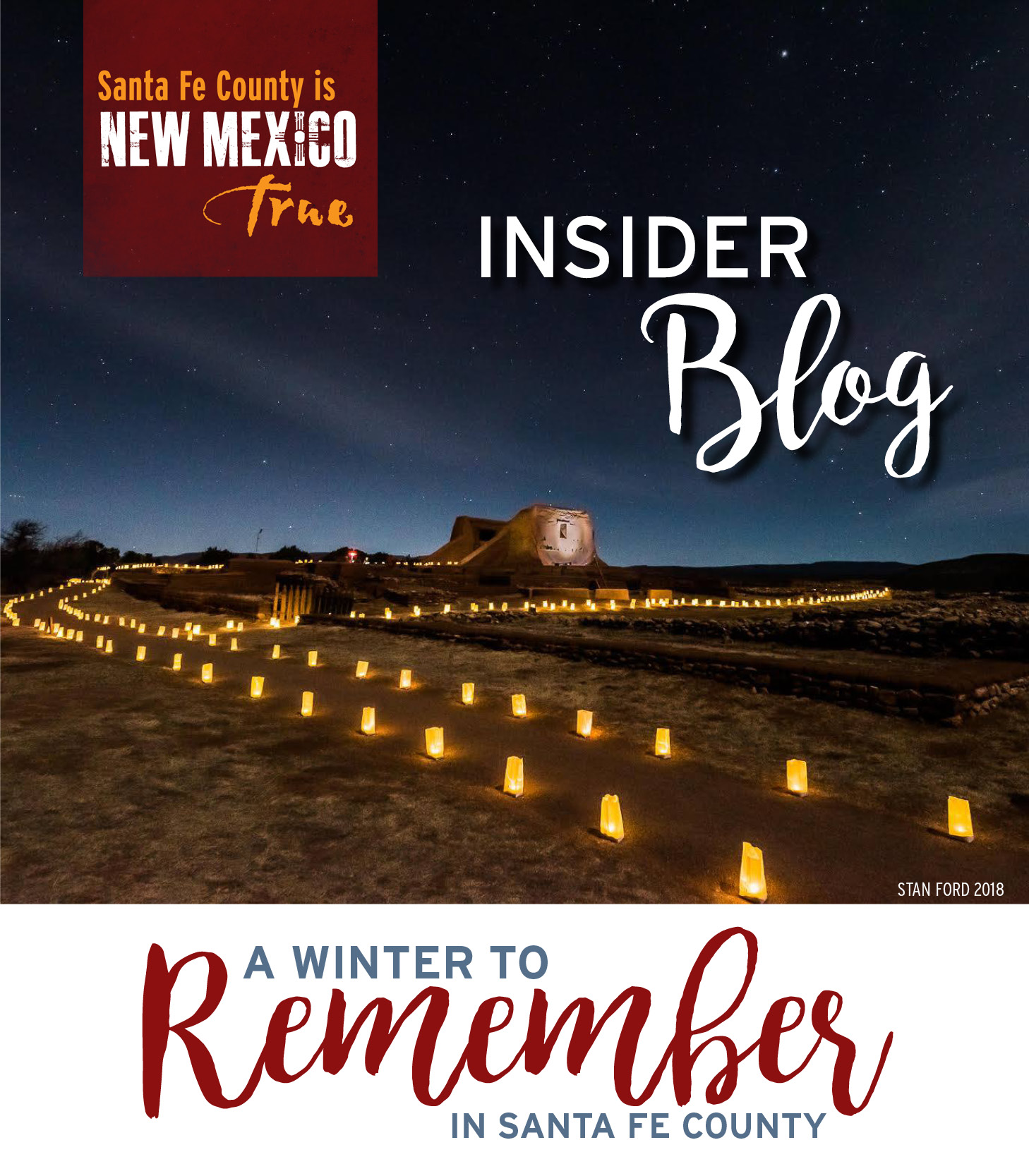 There's something about winter in Santa Fe County. It's not just the soft, powdery snow that blankets our mountains or the sun-drenched days and dark, starry nights. And it's not just the blend of rich cultural traditions, or the sublime skiing and world-class spas. It's all of these things, and more, that combine to make the season here both magical and memorable. So plan a trip to Santa Fe County for a winter you'll remember. Read on to discover some must-dos when you visit.
Shine for the Holidays
Farolitos are a longtime New Mexico holiday tradition and at Pecos National Historical Park 3,500 of them will illuminate a one-mile trail to the ruins of an ancient pueblo and a Spanish Mission church. The park's Farolito Walk, on December 16 from 5 to 8 p.m., will fill your heart with joy and wonder as you make your way along the glowing path beneath a dark December sky.
The next night, from 5 to 8 p.m., the park presents Las Posadas, commemorating Joseph and Mary's journey to Bethlehem in their search for shelter. You'll take a horse-drawn carriage ride then join a procession along the farolito-lit trail, singing hymns and holiday songs in English and Spanish along the way. Hot beverages and biscochitos will be available to keep you warm. Both events are free and highly popular, so plan to get there early. Dress warmly and bring a flashlight.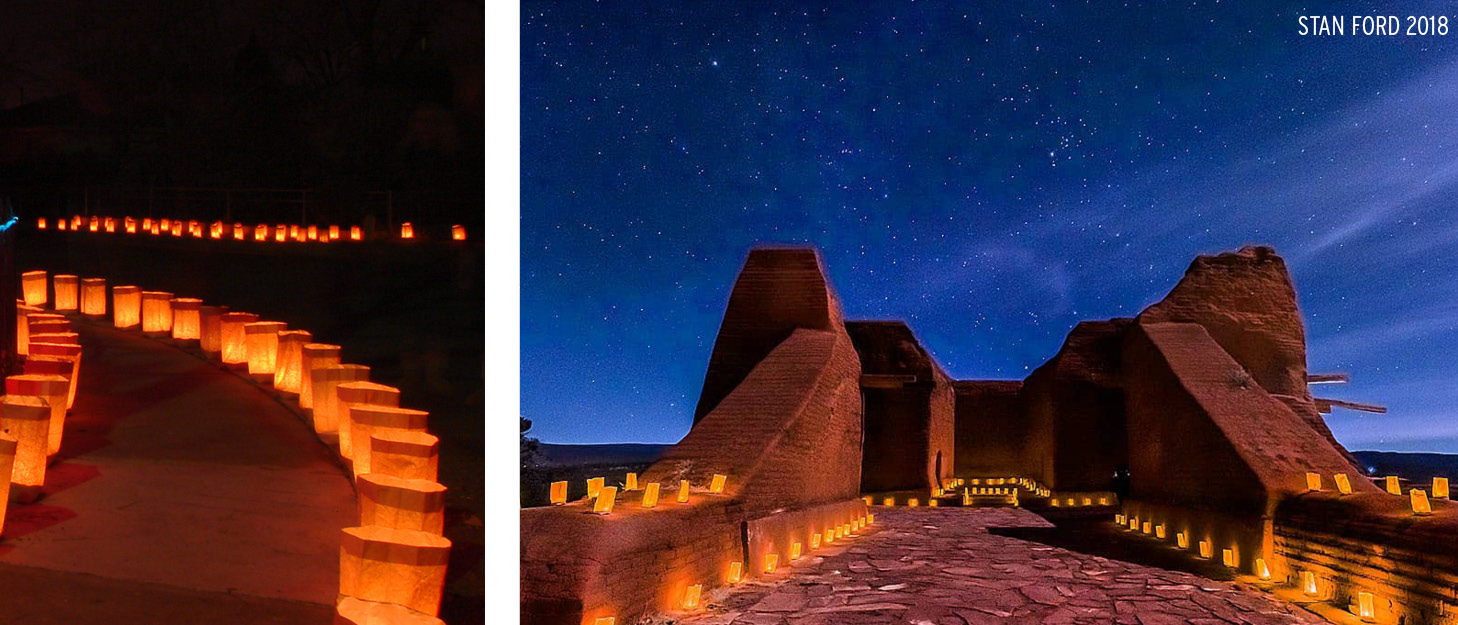 Ring in the New Year on the historic Santa Fe Plaza, as local bands heat up the night with live music on the Santa Fe Bandstand at the Fourth Annual New Year's Eve on the Plaza. Piñon bonfires ring the plaza and scent the air with an unmistakably New Mexican fragrance and space heaters and a heated tent provide extra warmth. You can write down your hopes and dreams for 2020 on a memorial banner, and enjoy free hot chocolate and biscochitos. At the stroke of midnight, welcome the New Year in City Different-style as a hand-crafted Zia symbol rises high onto the sky against a brilliant backdrop of colorful fireworks. Be sure to dress warmly.
Skiing, Southwest Style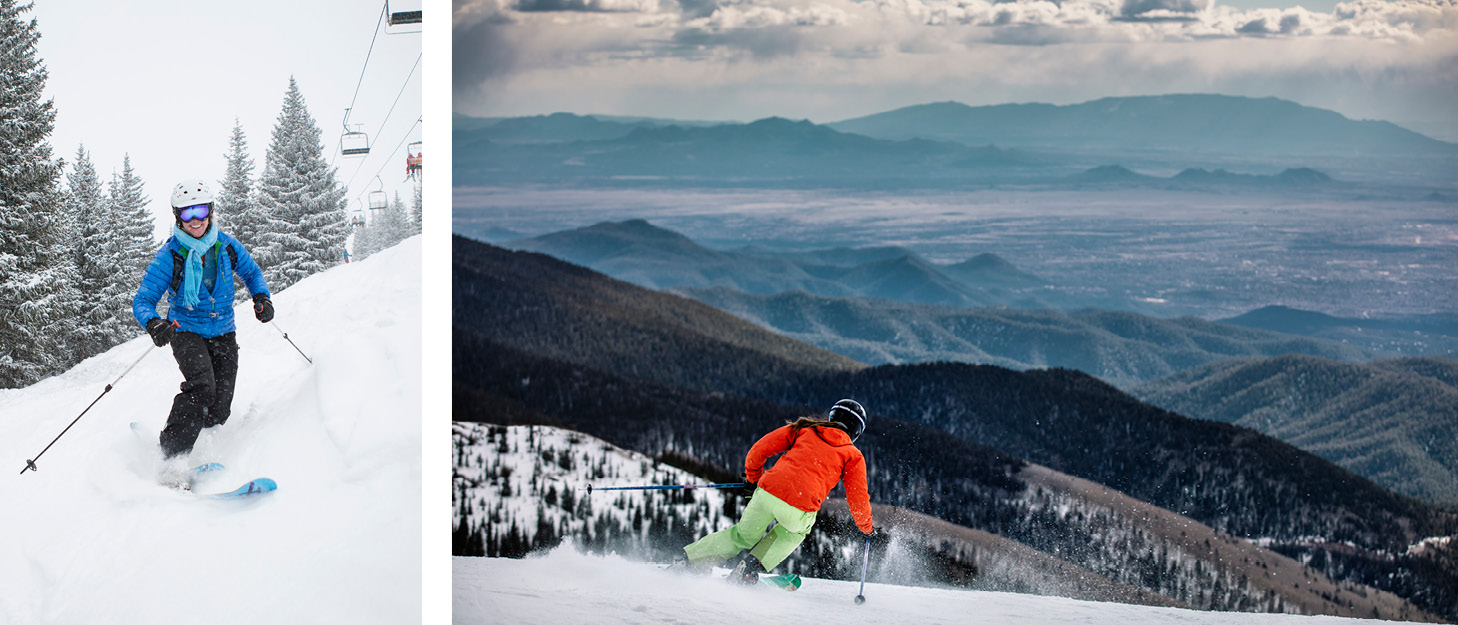 With legendary powder, breathtaking views and brilliant sunlight, Ski Santa Fe is one of the Southwest's top ski destinations. Snowboarders and skiers alike flock to this family-friendly ski area, with a base elevation of 10,350 feet and 86 trails for all levels. Located only 16 miles from downtown Santa Fe, Ski Santa Fe offers a full schedule of events all winter long. Enjoy slope-side entertainment with live music every Saturday (except between Christmas and New Year's) on the deck of Totemoff's Bar. Local ski shop Alpine Sports will be onsite with a variety of ski and snowboard demo equipment for you to try out on Demo Day, held December 15 and the Burton Women's Snowboard Camp takes place February 15-16.
Be Well for the New Year
Feel like a new you in the New Year with a visit to one of Santa Fe County's sensational spas. Try the new Repose Pools at Sunrise Springs Spa Resort, where you'll soak in natural artesian spring-fed pools overlooking a peaceful pond and emerge feeling refreshed and revitalized. Find serenity at Ten Thousand Waves, inspired by Japanese mountain hot spring resorts, by soaking in a serene outdoor hot tub, nestled in the Sangre de Cristo mountains.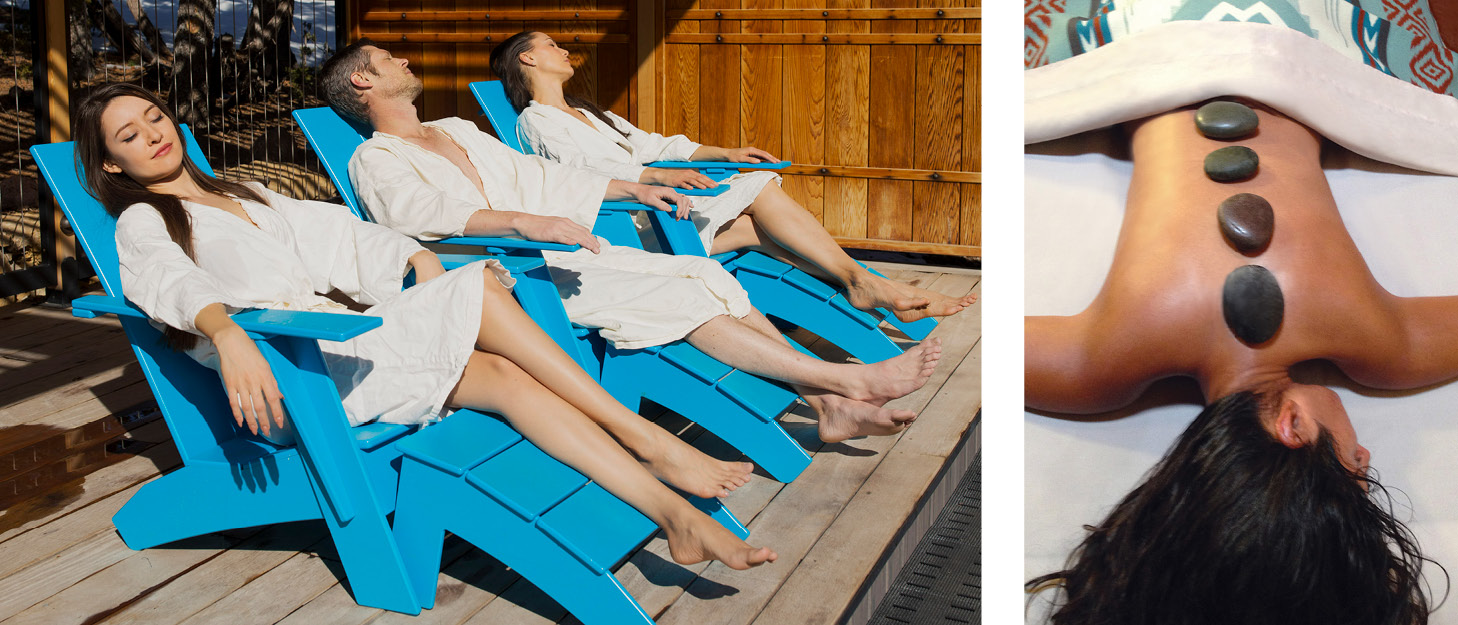 For a spa experience that reflects the traditions of the ancient Southwest, visit Four Seasons Resort Rancho Encantado and step into a space inspired by sacred kiva rooms of the area's Ancestral Puebloan people. Pamper yourself with a luxurious treatment of Native American influences, the Mountain Spirit Purification, which includes a sage smudge, adobe clay mask and a juniper-sage hot stone massage.
Delicious Dining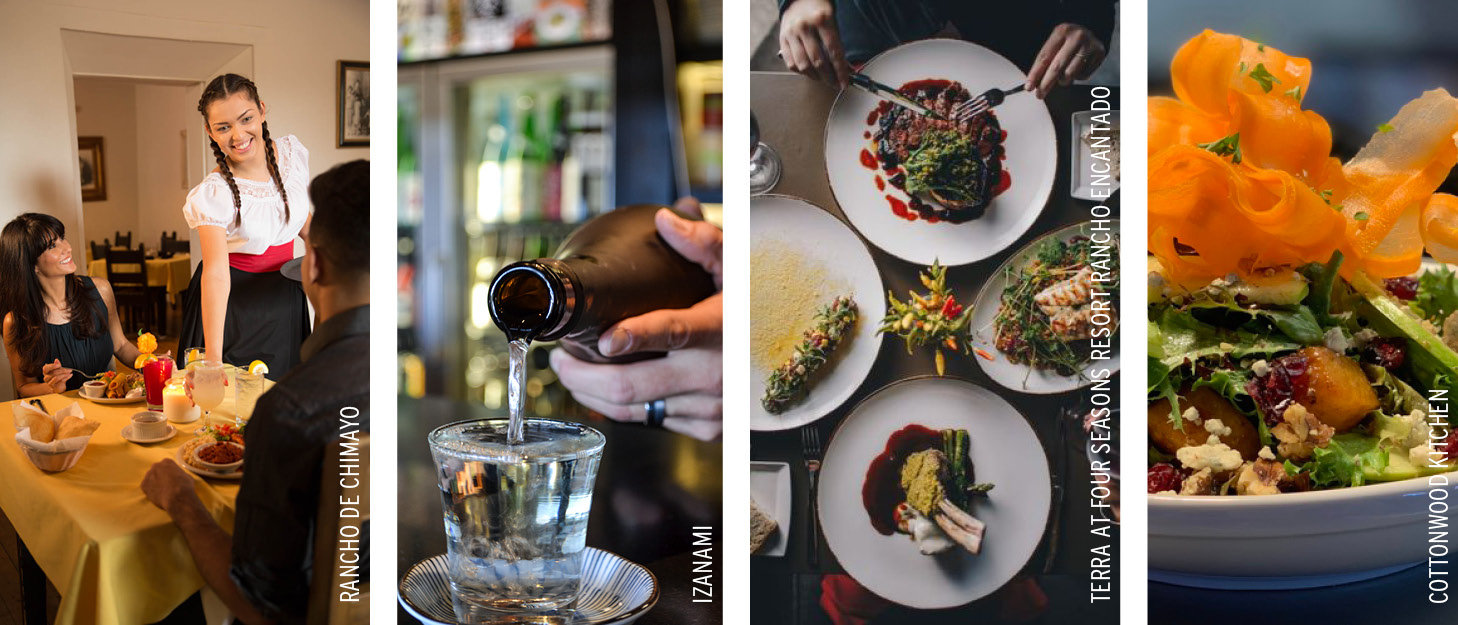 There's no better way to sample Santa Fe County's creative cuisine than during Restaurant Week, held February 23 through March 1. Savor delectable, three-course prix fixe meals from acclaimed restaurants. Cottonwood Kitchen at Tesuque Casino, for instance, will serve dinner options that include green chile chicken posole, braised bison short rib and red chile brownie cookie, along with live music every night of Restaurant Week. Choose from many other mouth-watering meals offered this week at revered Santa Fe County restaurants, including Rancho de Chimayo, Arroyo Vino, El Nido, Terra at Four Seasons Resort Rancho Encantado, Blue Heron at Sunrise Springs Spa Resort, Rancho de Chimayo, Izanami at Ten Thousand Waves, and Bourbon Grill.